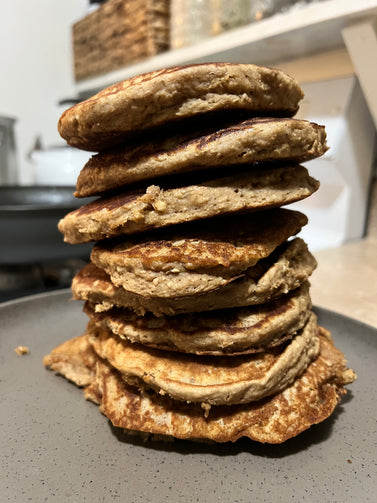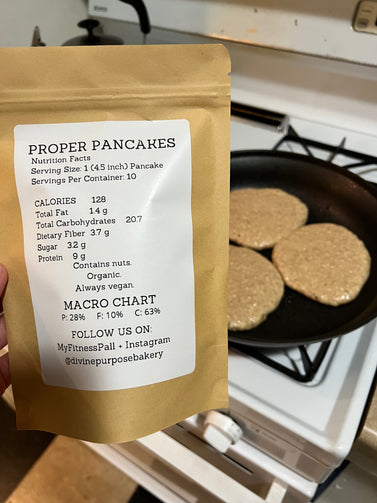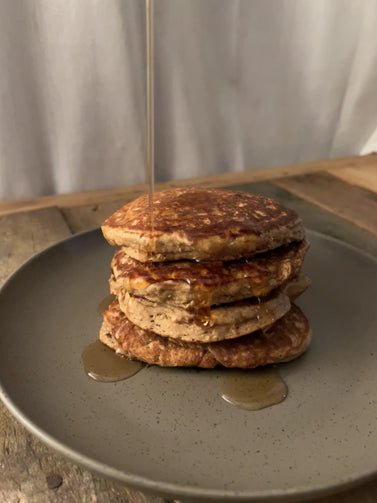 PROPER PANCAKES
PROPER PANCAKES
Regular price

Sale price

$17.00 USD
INSTRUCTIONS: **(For 10 pancakes!! CUT WATER AND APPLE SAUCE IN HALF IF PURCHASED HALF MIX!!)

Whisk dry pancake mix thoroughly until completely blended. Add 2 cups of water, 1/4 cup of unsweetened organic apple sauce (accounted for in macros) and mix together until thoroughly blended. Use the 1/4 measuring cup to scoop 10 heaping spoonfuls of wet batter, making 10 thicc and hearty pancakes.
*Add 1 tsp of Pure Vanilla Extract for extra 0 calorie flavor.
INGREDIENTS:
Wheat bran, whole wheat flour, potato starch, brown sugar substitute, sugar alternative, organic cassava starch, corn starch, powdered peanut butter, organic vegan vanilla protein, organic vanilla extract, oats, baking soda, and brewers yeast.

PROPER PANCAKES
Servings 10
Nutrition Facts (per 1 Serving)
Calories: 128
Total Fat: 1.4 g
Saturated: 0.1 g
Trans: 0 g
Polyunsaturated: 0.2 g
Monounsaturated: 0.2 g
Cholesterol: 0 mg
Sodium: 152.2 mg
Total Carbohydrates: 20.7 g
Dietary Fiber: 3.7 g
Sugar: 3.2 g
Added Sugars: 1.2 g
Sugar Alcohols: 0 g 
Net Carbs: 17 g
Protein: 9.1 g
Vitamin D: 0%
Calcium: 5%
Iron: 6.8%
Potassium: 62.8 mg
Vitamin A: 0g
Vitamin C: 0g

* Percent Daily Values are based on a 2.000 calorie diet. Your dailv
values may be higher or lower depending on your calorie needs.
Couldn't load pickup availability